All Together Now
Summer Reading Program 2023 - is here! Get ready to be kind to yourself, the planet, and each other during the Branch District Library's annual Summer Reading Program for all ages! Join us for loads of fun beginning on Monday, June 5 until Saturday, July 29. Children, Teens, and Adults can complete activities for the chance to win cool prizes, attend fun programs, and enjoy an awesome Summer Reading Program!
Registration will open in mid-May online or with the Beanstack App on your tablet or smartphone. Start tracking your reading activities on June 5 and complete everything by July 29 for the chance to win amazing grand prizes! A paper reading tracker (for all ages) is available at any branch of the library, or download it on this page to print at home.
Here's what to do:
Find great books to read or listen to that will complete the required 10 activities for your age group (children, teens, or adults). Try our catalog, Hoopla, or Libby!
Sign up for Beanstack and complete your activities online, or use the paper reading tracker available at the library, or download on this page to print at home.
All paper reading trackers must be returned to a Branch (you can put them in our outside drop boxes!) no later than end of the day on Saturday, July 29. Please make sure you have completed the activities in Beanstack as well. You can also submit your reading tracker by email to srp@branchdistrictlibrary.org. Winners will be announced on Monday, July 31 for the Grand Prize winners. All prizes must be picked up no later than Friday, August 4, 2023.
2023 Grand Prizes:
Children will have prizes for 3 age groups (2 winners per age group) at each branch):

Ages 0-3:

Option 1: 6-pack of Montessori Animal Shape Toddler Puzzles
Option 2: Melissa & Doug 4-pack of educational toys

Ages 4-8:

Option 1: Scooter
Option 2: Crayola Silly Scents Art Case & Squishmallow

Ages 9-12:

Option 1: Sneaky Ninja Kindness Card Game & Mega Box of LEGO bricks
Option 2: Slime Kit

Teens will have the opportunity to win one of two grand prizes at every single branch!

Option 1: (Red) Frigidaire Mini Portable Compact Personal Fridge Cooler
Option 2: Hover Board

Adults will be entered into a grand prize drawing to win a $50 Meijer gift card, with a winner at every branch! Additionally, every adult that completes the Summer Reading Program, will receive a free pass to the amphitheater at the Branch County Fair.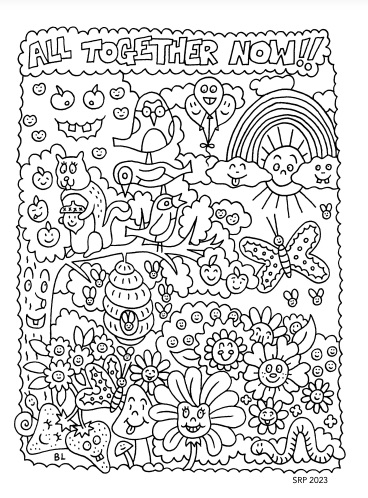 2023 Coloring Contest
Everyone can join in our district-wide coloring contest, and there will be three age groups to choose from. Ages 0-8, 9-12, 3 and above. Color our special SRP-themed coloring page and return to any library branch by July 1 for a chance to win a prize. Your picture will be on display at the library during our Summer Reading Program! One picture will be selected from each age group to win a Summer goodie basket.
Summer Reading Program Events
Summer Reading Program Wrap-up Party! Monday July 31st from 6PM-8PM!
Join us at Heritage Park in Coldwater to wrap-up our Summer Reading Program! It's a fun foam party, so bring a towel to dry off! An online waiver must be completed before participating in foam party activities. You will also be able to sign the waiver at the event.
Questions? Email srp@BranchDistrictLibrary.org or contact your local branch!