Apply for a Library Card
Submitted by
BDL
on Wed, 2016-05-04 15:09 | Last Edited on Thu, 2020-03-19 12:26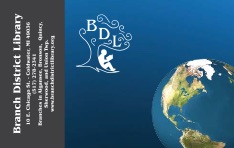 You can start the process of getting a FREE library card by clicking the links below to start the registration.
During the COVID-19 closure, new library cards will be mailed to valid addresses in our service area. Many people at this time are applying for new cards, when their old card just needs to be renewed. So if you do not receive your card in the mail, please check our email. You might have an email from us saying your old card is good to go!
See the below policies for more information.