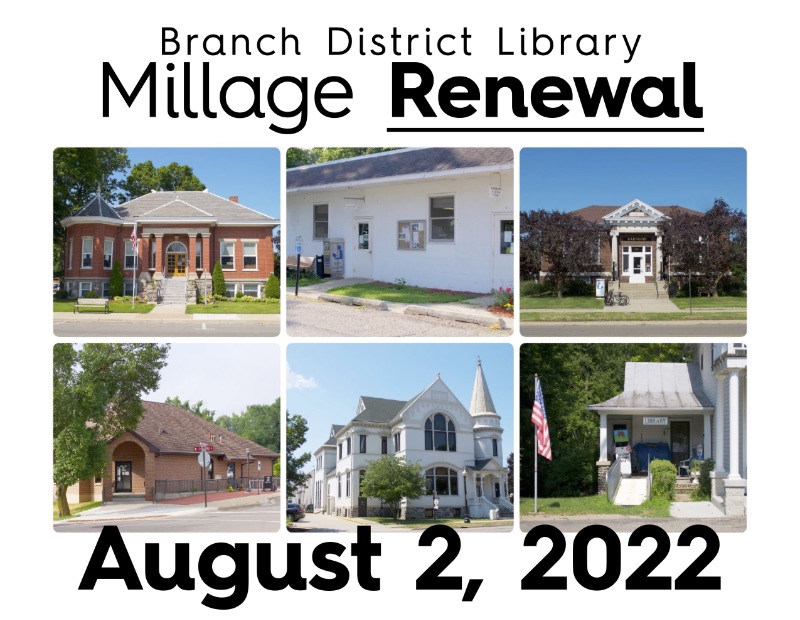 2022 Millage Renewal Fact Sheet
The Branch District Library (BDL) is seeking a renewal of its millage at the current rate of 0.4983 mills.
For property with a taxable value of $100,000, this millage will result in a tax bill of $49.83, a 0-mills net increase.
This millage proposal will be on the August 2, 2022 ballot.
The millage will last for 8 years.
This millage provides approximately 45% of BDL's property tax revenue.
The remaining 55% of BDL's property tax revenue comes from a perpetual millage, currently at a rate of 0.6029 mills.
These two millages together support the library operations and services at 6 locations around Branch County.
Ballot Language
Library millages appear on the last page of your ballot, so be sure to go all the way to the end to see our proposal. The millage proposal wording is:
LIBRARY MILLAGE RENEWAL

Shall the Branch District Library, County of Branch, State of Michigan, be authorized to levy a millage annually in an amount not to exceed .4983 mill ($0.4983 on each $1,000 of taxable value), which is a renewal of the previously authorized millage that expired in 2021, against all taxable property within the Branch District Library district for a period of eight (8) years, 2022 to 2029, inclusive, for the purpose of providing funds for all district library purposes authorized by law? The estimate of the revenue the Branch District Library will collect in the first year of levy (2022) if the millage is approved and levied by the District Library is approximately $800,000.
Library Facts
About 88% of BDL's funding comes from property taxes. About 7% comes from fines from the court system, about 2% comes directly from the State of Michigan, and the rest comes from other sources like individual donations and grants.
BDL has averaged about 160,000 in-person visits each year over the last 8 years, with a total average usage of about 180,000 items each year. BDL has averaged about 22,000 cardholders over the last 8 years.
BDL is open about 240 hours each week, with over 100,000 items on our shelves and another 900,000 items available for digital download anywhere, at any time.
BDL holds about 1,000 events each year for all ages, drawing tens of thousands in attendance.
The average residential household in Branch County paid about $69 in total property taxes to the library in 2021. The average library-using household got about $145 worth of value from their library use in 2021.
How Do We Get Our Figures?
For more details on all of the above, and more, please see our:
Average 2021 household tax contributions were determined by taking the state equalized value (SEV) of all residential property in Branch County from the L-4023 report, multiplied by our total millage rate (1.1012 mills), then divided by the number of residential properties in the county (20,854).