Welcome!
Submitted by
Bronson
on Mon, 2007-02-19 15:03 | Last Edited on Thu, 2018-08-02 08:49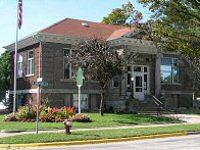 The Bronson Library is happy to help you with all of your informational needs. We have a nice selection of books, magazines, videos, and computers for the public to use.
The Bronson Library is in a vibrant community and offers a variety of programs for all ages. We also have an active Friends Group, be sure to check them out on Facebook.
Stop by soon and see what we have to offer!