New Microfilm Machine
Submitted by
John
on Thu, 2008-12-18 10:50 | Last Edited on Thu, 2018-08-02 08:51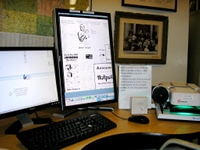 The Heritage Room is proud to announce the purchase of a new microfilm reader/scanner/printer. We just bought an e-Image Data Scan Pro 1000. This new reader is controlled from a computer and can save scans from microfilm to disk or let you email them.
We have a large 24-inch screen in portrait mode that allows you to view a newspaper almost at the original paper size.  Plus, you can zoom in and easily select only the parts of the film you want to print or save.
Here's an example scan from a film of one of our oldest newspapers, the April 16th 1841 issue of the Coldwater Sentinel:
And one section zoomed in:
If you are planning on visiting the Heritage Room for research, you might want to read the help sheet or view the help video before you come (you can watch the video here, too).